YOGA SOCKS
My seamless, hand knitted yoga socks are made from a washable wool blend.  The open toe and heel design allows you to keep your feet firmly planted without experiencing a cold floor.  They will actually keep your feet warm in winter (or in air-conditioned workout space) and cool in summer, as the natural fiber allows the perspiration to wick away from your skin.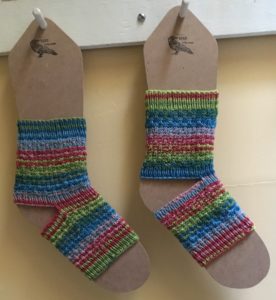 I have many colors available to coordinate with your yoga wear.  Sized to fit most women, some yarns knit up a bit smaller than others, so please inquire if you have special sizing concerns.
$28.00 each.  One Size Fits Most (Women).  Machine Wash Gentle/Tumble Dry Low.
Color shown = meadow stripes, $28.00
Color: blue striped ragg, $28.00 (photo below)
Color: green striped ragg, $28.00
(photo below)
Color: clover, $28.00
(photo below)
Color: celestial, $28.00
(photo below)
Temporarily Out of Stock
Color: mango, $28.00
(photo below)
Color: fuschia, $28.00
(photo below)
Color: como blue, $28.00
(photo below)
Color: hot tamale, $28.00
(photo below)
Color: pickle juice, $28.00
(photo below)
Color: razzleberry, $28.00
(photo below)
Temporarily Out of Stock
---
There's lots more to come!  Check back often, so you don't miss anything.  I wish you blessings! — Rebecca