[Please note: Cost of shipping, for all items in my cupboard, is determined by quantity, not weight.  Buy up to 8 items for the same shipping cost.]
poppets
My poppets can be a very useful addition to your own cupboard.  They are filled with dodder, which was gathered by my hand, boiled and then dried for use.  Dodder is a very invasive parasitic species that contains many magickal properties.  It can be quite effective when used to:
bind lovers
protect loved ones from harm
promote emotional or physical healing
bind or banish
CAUTION!  Poppet Magick is very powerful and should be used with care!  Situations that may warrant its use for banishing: someone who is spreading harmful or malicious gossip, or someone who has threatened or actually engaged in verbal, emotional or physical abuse.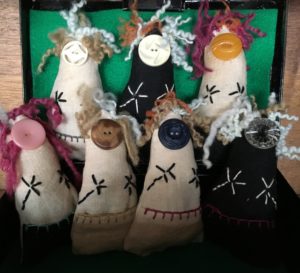 My poppets do not represent anyone at this moment.  They are meant to be kept until needed, then personalized with taglocks for use in sympathetic magick.  Tuck into the front pocket personal items to represent the person in mind, then pin or sew the pocket closed.  Proceed with your own intention, thereby completing the spell, and either bury the poppet or tuck it away in a safe place.
Each is 5-1/2″ tall and made from linen and handspun, naturally dyed wool.
 $24.oo each.  Color varies.
---